Work has begun on my Dragon 1/35 Panther D w/zimmerit. I recently posted an in-box review of this excellent kit which you can find here:
Panther D w/zimmerit In-Box Review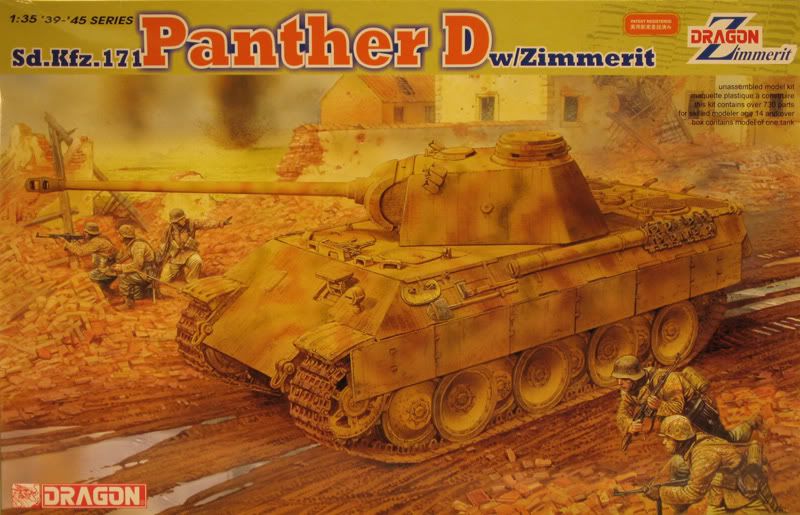 I found the markings in the kit a bit boring, so I picked up the excellent Echelon decal set ATX351009 which features markings for various Panther Ausf. D and a couple for the Ausf. A. Included are some gorgeous markings featuring red, black or white snarling Panther heads with Pz.Abt. 51 and Pz.Abt. 52 around the time of Operation Zitadelle. One of these days I'll do one of those schemes on a Dragon 1/35 Panther Ausf. D premium.
For this build, I have narrowed my choices down to either of these two vehicles:
* Panther #232, 2nd Company, 15 Pz.Rgt., 11 Pz. Div.
* Panther #424, 4th Company, 15 Pz.Rgt., 11 Pz. Div.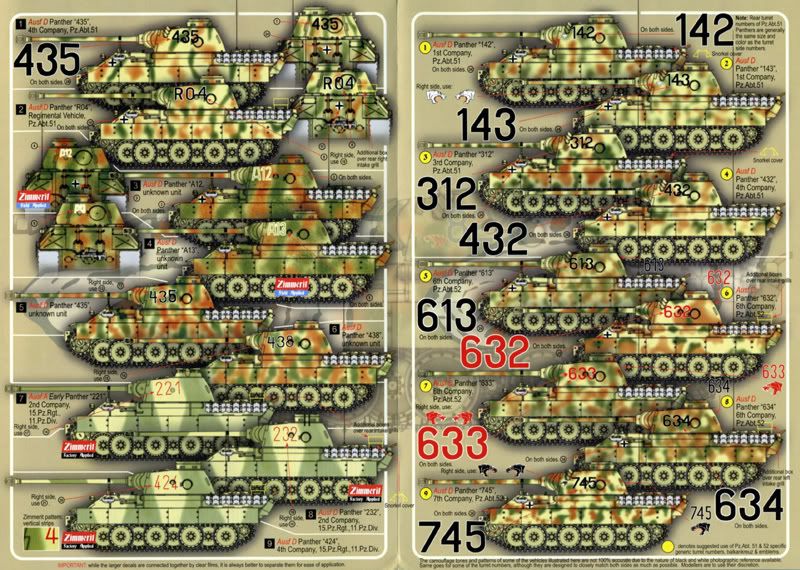 Construction begins with the running gear and lower hull.
The suspension arms have been attached, as well as the final drive housings and other runner gear components. So far it's been a very easy build with no fit problems, however the locating pin located on the back of the fatter end of the final drive housings needed to be removed because there is no corresponding locating hole for it on the hull.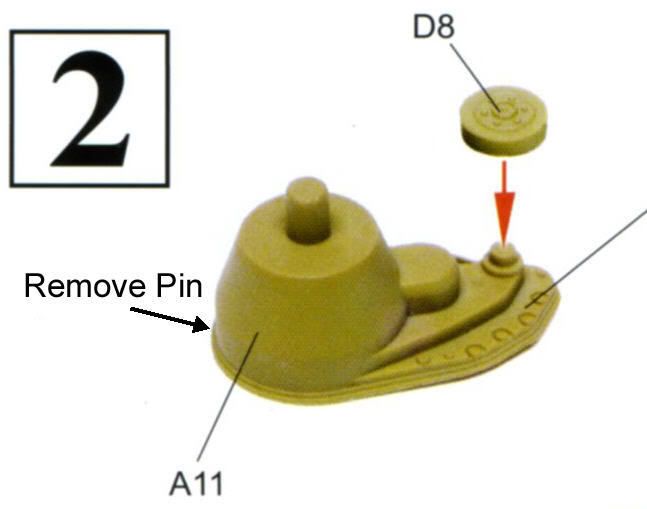 For those that plan on building this kit, be aware that the suspension arms 2nd from the front and 2nd from the rear are supposed to have that raised seam on them running down the middle. Also note that those components are beefier than the rest of the suspension arms.
Once I got them all attached I lined them up by resting just the ends of the arms on the edge of my workbench while simultaneously putting a stiff straight ruler on the top half so they would line up correctly as they set. Because some of the arms are thicker than the others you can't use the tried and true method of just setting the kit flat on the table as the thicker ones will wind up with the axle slightly above and out of alignment with the rest of the arms. Make sense?
I will be using the "template method" to spray the road wheels. First they will be painted a mix of flat black with a touch of gray to simulate the slightly faded look that the rubber gets from exposure to sun and the elements. Using a drafting template with various sized circles on it I find the hole that best matches the size of the metal road wheel portion and use that as a mask to spray the base coat. I will document the process with photos when I get to the painting stage of the build. In the mean time, the wheels have been cleaned up and are ready for painting.