As a follow-up to my in-box
review
I'll begin this build log to check the fit and finish.
The first 6 steps, which deal with the lower hull/running gear and interior, are nearly identical to the DML Flakpanzer. The differences are the hull, of course, style of sprockets/idlers and the rear engine bulkhead. I'll basically start off with step 7, if you wish to see what's involved with the previous steps check out the
Flakpanzer build
.
Once again, I want to depict the slight bend in the fenders, so first up was to clean the straight fender guide line off the hull. A little scraping with the knife, a bit of sanding and we're done.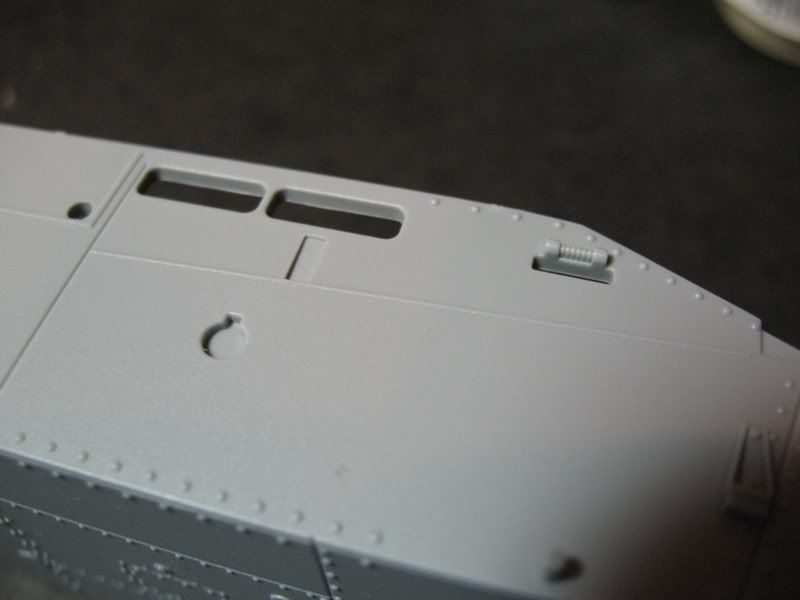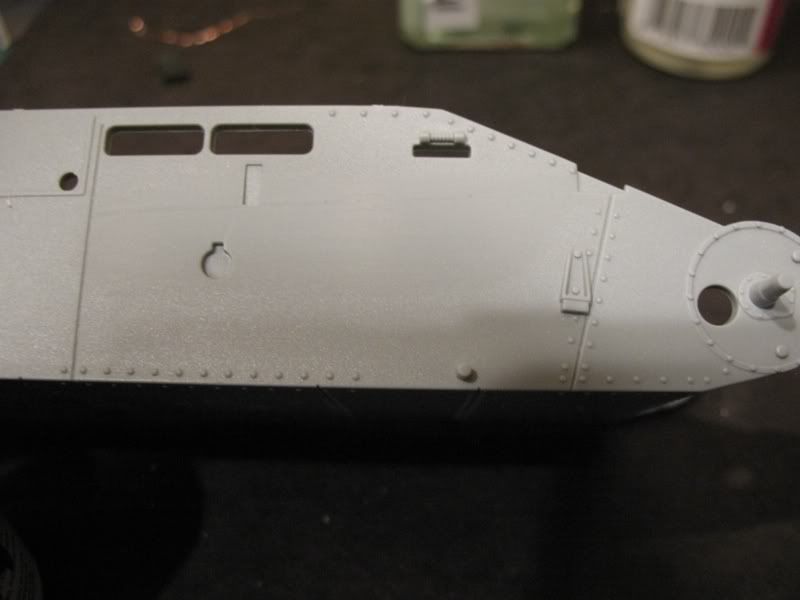 I'm keeping all the hatches closed so the interior is being saved for something in the future. I did use the driver/engine compartment bulkhead to give a little more rigidity to the hull, and give the engine hatches a bit more to rest on. The rear engine bulkhead is slightly different on the Marder with 2 heater vents which are positionable.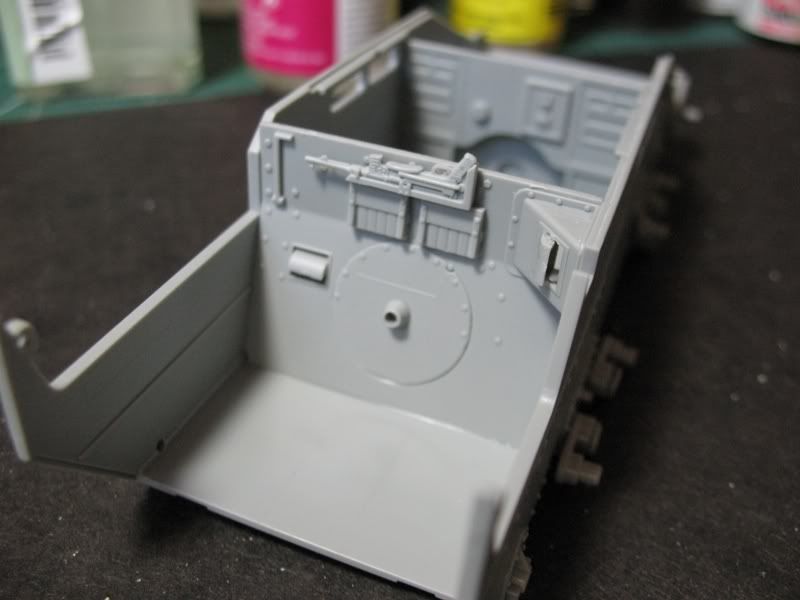 Steps 7&8 concentrate on the upper hull with the casemate sides and fenders. The 'eyes' for the camo wire on the casemate sides are molded closed, which I'm not thrilled with. These were shaved off and I made wire loops instead. Other then that, all went smoothly, I even got the 2 bends on the radio rain shield this time!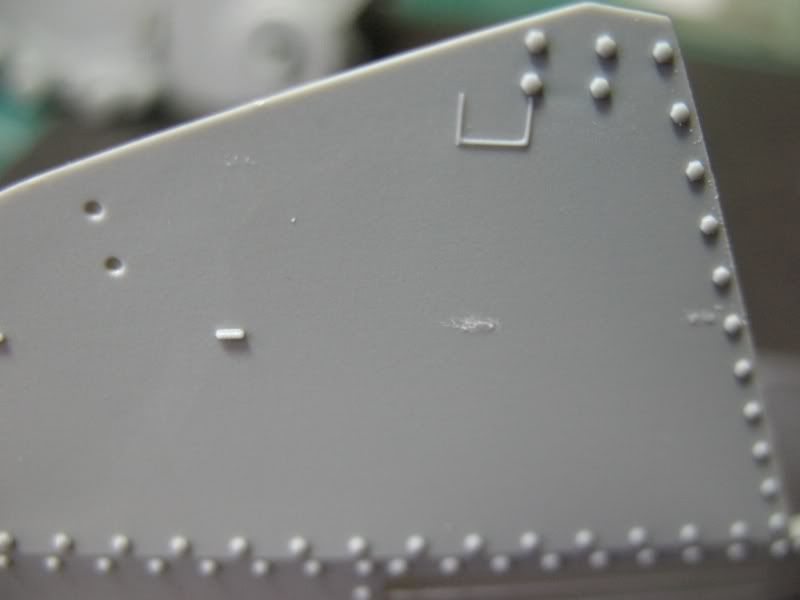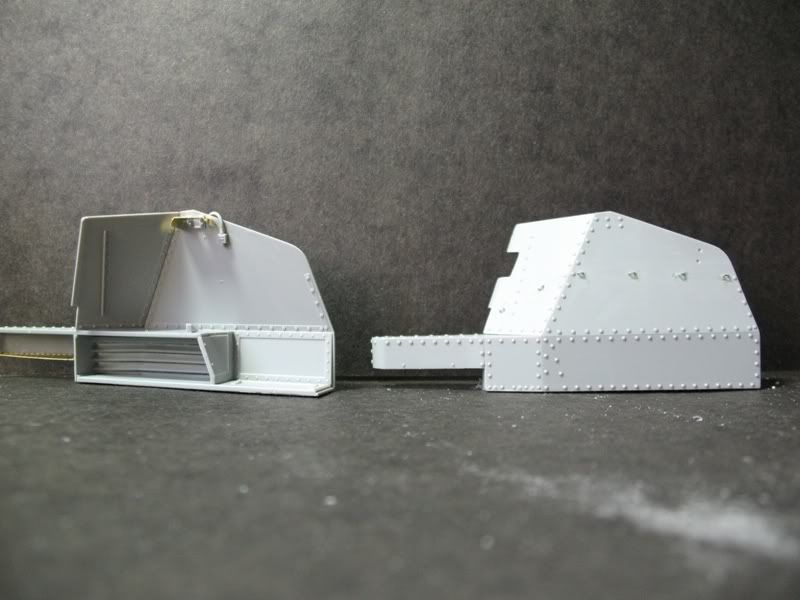 The area behind the louvers can be a bit tough to paint when all assembled, so a quick coat of black was given in that area first. The fighting compartment sides have locating lines but there is still a good amount of play. Since it's difficult to judge exactly were the sides should mount I taped the rear section in place to get everything aligned.
The drivers hood has a slight seam that needs a quick scrape with the knife tip, then I use a little liquid glue to blend the cast pattern in. If you happen to scrape it too smooth, you can try letting the glue set for awhile and press some medium sandpaper on it to give some texture. The travel lock snaps in place, though I recommend a spot of glue at the end of the build. Leave it loose for now if the travel lock will be engaged as it may need to be moved when sliding the barrel through.
Next up are the fenders, I glued the center support in place first, and gave the fenders a slight bend before installing. The front edge was thinned by scraping the bottom side with my knife, giving a better scaled appearance and making it easier to add some damage.
I start glueing at the center support working towards the front. Then the rear section gets fastened, making sure the fender is holding it's shape. The rear support is added and finally the front support. Notice the slight indention at the hull for the rear support, this can be filled with a little putty after the fenders have set up and the outer end of the support filed smooth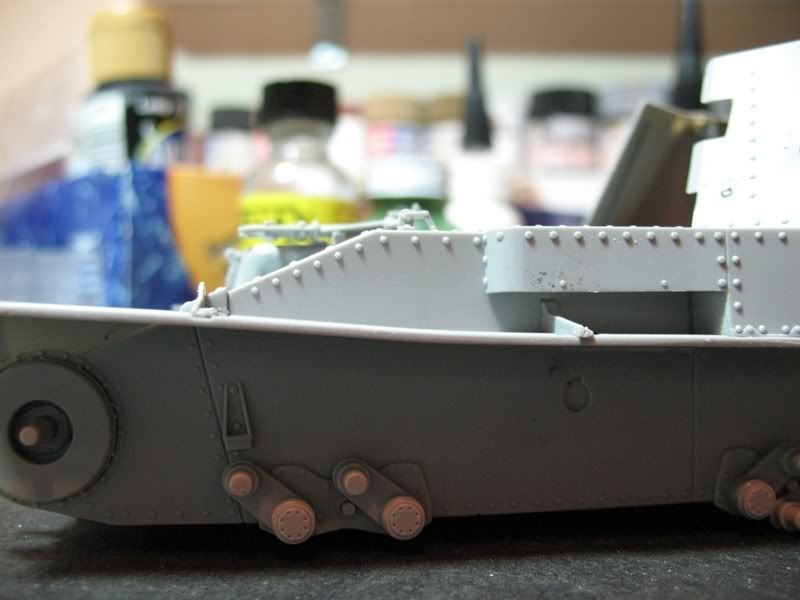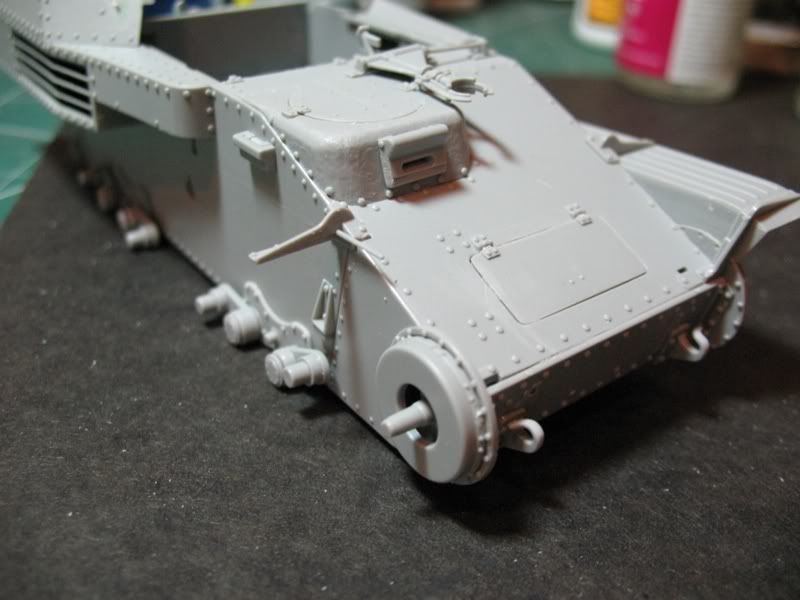 That's where it sits at this point, thanks for looking