Hi Guys,
I was fortunate enough to receive the Resicast Conversion for the Medium Machine Gun Carrier to review and in keeping with the policy have started this build blog, thanks to Graham at Resicast supplying the kit for review.
Although deployed in many forms the original concept of the carrier was to provide a means of transport or a medium machine gun crew, all its ammo and supplies to a given spot from where they could dismount and fight independently of the vehicle. Over time the commander/driver and crewman became the machine gun crew and so in this form it was perhaps being used very much in its original concept.
I've been giving some thought as to how I might finish the carrier. The first option is as a vehicle belonging to the Independent Mortar and Machine Gun Company, 1st Company Royal Northumberland Fusiliers, who were the support company for the Guards Armoured Division in NWE. In this form it would fit nicely with this vehicle which I just finished recently:
However, I was looking at the box art: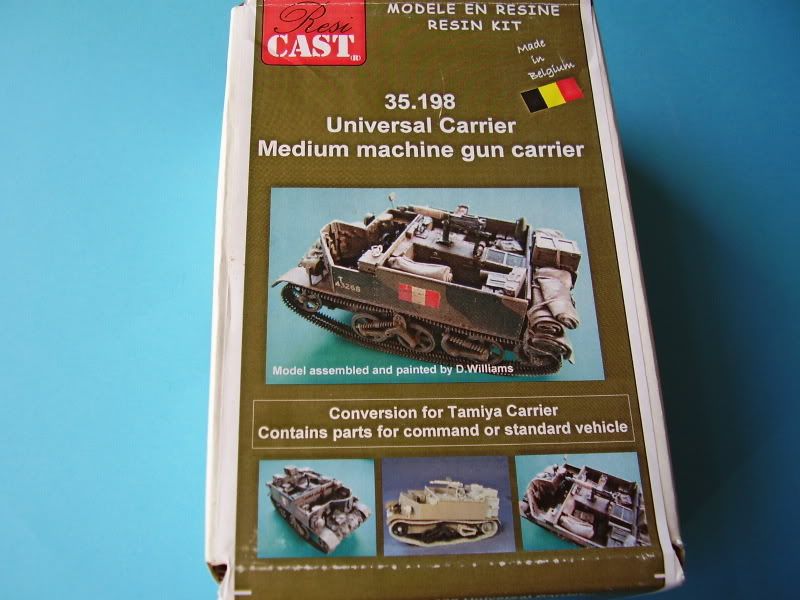 and it got me thinking about Italy and Anzio. The 1st Battalion Irish Guards fought through North Africa and landed in Taranto on Tuesday 7th December 1943.
At just after midnight on 22 January 1943 they landed in Anzio. The fighting that followed was intense and the 1st Battalion was almost wiped out some 240 ranks being returned to England to form the Training and Replacement Battalion, many of whom went on to fill the ranks of 2nd Irish Guards Armoured and 3rd Battalion Irish Guards.
Despite repeated attempts to throw the Allies back into the sea the Germans didn't manage to break the Anzio Beach Head and the Battalion played a key role in the fighting there. If I remember correctly the carrier sections were very active, but I shall have to re-the history again to be sure, but I thought this might be a fitting tribute from an ex Mick and also fit in well with the recent Dragon Commonwealth kit.
I have the Military Workshop Series Universal Carrier Varients Part 1 and according to the introduction the MG carriers came into being in late 42/early 43 so the time period may be right. More research required lol, lol.
Anyway, anyone who might have some reference pics that might help with either time frame please feel free to contribute.
A link to the review of this kit can be found here:
http://www.armorama.com/modules.php?op=modload&name=Reviews&file=index&req=showcontent&id=3473
Cheers
Al