Hi Guys,
I've been fortunate enough to get my hands on the new T16 Universal Carrier from Resicast -Thanks Graham.
The review on the kit should be up soon, so I though I'd start the blog and see what additional infomration I could gather up for the build.
The kit can be built as an early or late T16 MK I. Here's a couple of pics of the box art: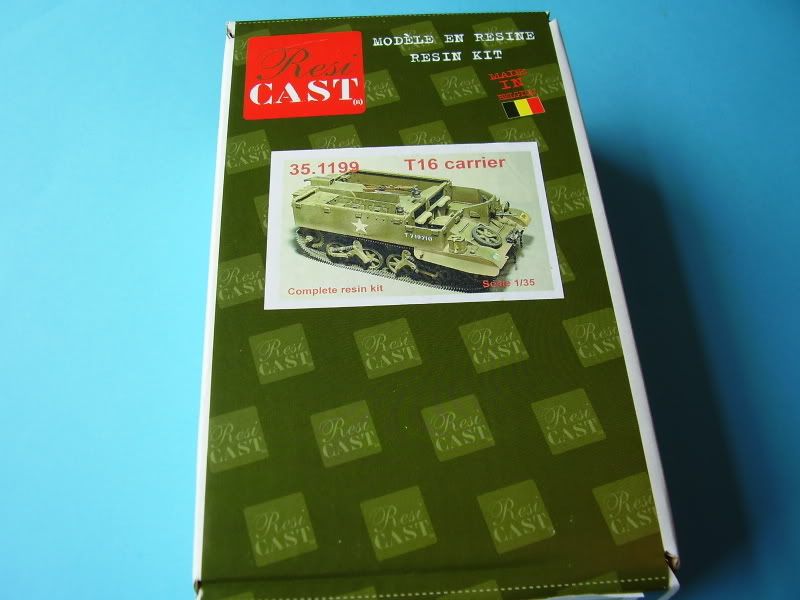 I'll put the link in for the review when it's up but it is a sweet kit.
A little general background might be useful if you are unfamiliar with this particular vehicle.
The Ford Motor Company in Canada had their hands full producing and meeting the demand for the Mk I and Mk II universal carrier so The Ford Motor Company at Somerville in Massachusetts took on the job. It was the only place in the US to produce this carrier type. So this is a US Ford vehicle and unique in that aspect.
Being an American build they looked to improve it. It was steered by using steering levers, fully tracked with 2 sets of boggie wheels each side and could cruise at 30mph, with a top speed of 55 mph. It was powered by a 100HP Ford-Mercury V8 Engine.
There were 2 main versions if I've got my info correct an early and later version of the Universal Carrier T16 Mk 1 and a upgraded and slightly altered version the Universal Carrier T16E2 Mk 2. The vehicle was also developed into a 3" Mortar Carrier, 4.2" Mortar Carrier and used as a T16 Anti-Tank version to tow the 6pdr anti tank gun.
If anyone has any pics of the vehicle they would like to share that would be appreciated.
To accompany the build I'll be adding the new towed 6pdr and the new Carrier crew and stowage.
Cheers
Al