the rules of this campaign called for a background story. Here is mine-
Kwajalein Atoll was taken from the Japanese in February 1944 and has remained a US military asset ever since. There is an excellent Osprey book about the campaign called "Marshall Islands 1944", among others, for anyone who would like to learn more about that chapter of history. After the war, the US Navy developped a permenant facility on the island. The airfield terminal, building 901, which is the subject of this project, was built by the Navy in 1951.
Much has also been written about the cold war era nuclear tests in the Marshall Islands, and Naval Station Kwajalein served as a support base for those operations. In the 1950s, with the Cold war and the space race in full swing, the US Army was working on ballistic missiles, developing the Atlas and Jupiter ICBM systems. Development of defences against enemy ICBMs in the form of the the Nike interceptor missile program began around 1958, and the Pacific Missile Range was re-located to Kwajalein at that time. The Navy continued to operate the station while the Army was to operate the missile program. Construction and establishement of the radar and launch platforms as well as civilian contractor living facilites proceded rapidly, and in 1964 full control of the island was turned over to the Army. Development of large scale radar as well as missile telemetry and guidance systems, has been the mission on Kwajalein ever since.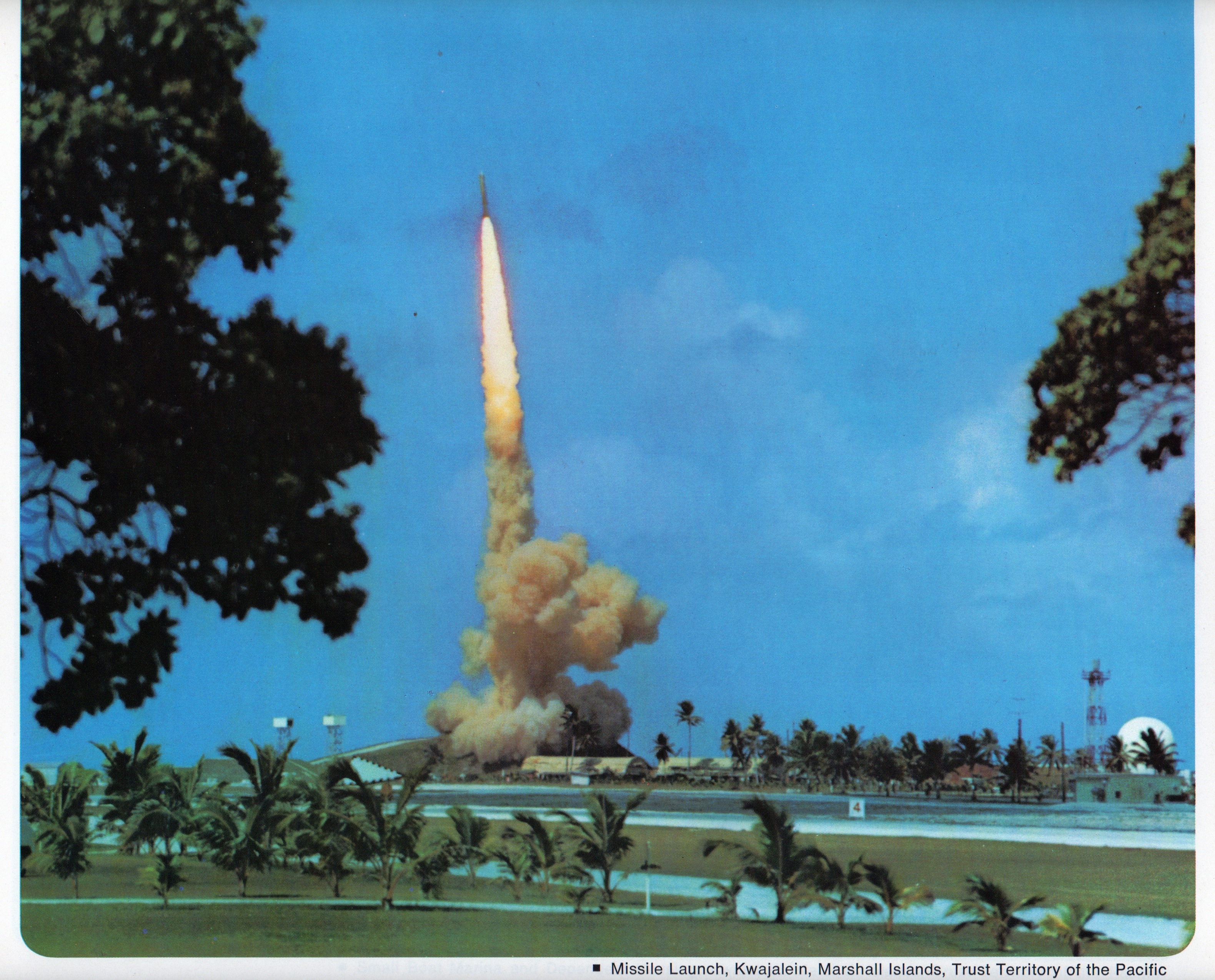 In the early 1960s my father was a mathematican working on digital computers at MIT-Lincoln Lab in Massachusetts. He accepted a post to Kwajalein applying the new computational methods to missle tracking and guidance, and he, my mother and sister and I went to live there in 1967. We lived at 470A Heliatrope road, and my sister and I attended the George Seitz elementary school. By then the permenant dependant housing area and "downtown" had matured into a lovely little town with all the ammeneties of home. Kwajalein resembled a suburb of Los Angeles, 4000 miles out in the Pacific ocean.
Being only two miles from end to end, there was no where you couldnt get to by bicycle in a few minutes, and there were no private automobiles. There was also no television. There were a wide variety of entertainment and recreational facilites and many social clubs, swimming, boating, soccer, and so on. Of course watching planes land and take off at the airfield stands out for me as a favorite passtime, and it was a busy place! Those were different times - the terminal building was open to the public and there were bleacher seats especially for plane watching. You could also ride your bicycle all the way around the mile long runway- there were no fences or gates anywhere!
My father, along with hundreds of other workers, commuted daily to work on another island called Roi-Namur. The "Roi" planes were C-54s. The "Meck" planes were DHC Caribous. Those we saw all day, every day. There were at least 10 round trips to each of those islands every day, and Huey helicopters flew to others as well.
They were about the last fixed wing aircraft operated by the Army. In later years, the commuter planes were operated by civilian contractors. My father was a lifelong aviation enthusiast, so he encouraged me to learn about planes from a young age.
Besides the commuter planes, Here is a list of planes I remember seeing on Kwajalein:
USAF MATS, (which became MAC in 1968) operated C-124s, C-123s, C-133s, C-141s,
All branches of the service including the Coast Guard operated C-130s,
Airforce RB-57s which were high altitude weather observatories,
Airforce KC-135s,
Navy P-3 Orions, which I recall being told, where watching Soviet submarines, which were watching us!
The Navy also operated the EC-121 radar planes.
I dont recall ever seeing any combat aircraft. There were numerous civilian flights as well, on schedules and charters.
Continental Airlines subsidiary Air Marshall Islands, aka Air Mike, had a DC-6 and 727s
Northwest Orient 707s, DC-8s and DC-9s
Saturn Airways DC-8s
My family returned to the States in 1971 and I went to high school in Concord, Mass.
But for a few years Kwajalein was my home town, and I am very fond of the memories I have of that faraway time and place.
This model is part of a larger project I have ongoing to build models of all the planes in the above list, and additional diorama modules of Bucholz field.
I am indebted to my friend Rex Simmons for his lovely black and white photographs seen here. I never had a camera when I lived on Kwajalein.