Hi all,
This is the start of my entry for the Land Rover campaign. I started yesterday and managed to get a liitle done. My plan is to build my Hobbyboss Land Rover 110 Defender Hardtop as a Royal Millitary Police Vehicle. I have over the years lived quite close to the Royal School of Military Engineering in Brompton England and I have seen quite a few parked up by the front gate or along side the fences. I am using the kit almost OOB but with a few aditional Accurate Armpour bits and some Bison Decals.
Accurate Armour : Blue Beacons & TUAAM Boxes
Bison : Landrovers in the Balkans
Plus a set of other decals I got off ebay
Details to follow.
I plan to paint it straight Nato Green with no camo pattern as this seems to be a safe option based on the pictures I have seen.
A few pics to start us off!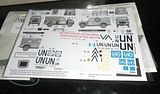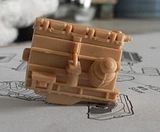 So there you go enjoy.
Paul