Hello one and all!
I make it ~2years since I posted a thread on here and probably nearer 5 that I managed to finish a build for you guys. However, some more spare time, a promise to an old friend (who will be cropping up on here regularly I guarantee) and a new years resolution means that here I am.
So the topic I'll be persuing will be a T-55 as captured and used by the Syrian rebel troops during the ongoing (unfortunately) civil war there.
The AFV I'll be building won't be based on any particular refernece photos (or videos for that matter as some very interesting ones are available on youtube) and as such will allow for a certain amount of creative freedom. However, the general guise will be a Syrian army T-55 that perhaps has been out of action or in storage, was overun by rebel troops and has been salavged and put back into action with some basic work. ie. a very beat-up T-55!
The Syrian army was one of the earliest recipients of the T-54 and has ammassed a large repertoire of variants over the years and as such provides some real options for the build.
However, as stated, I have a horific reputation for not getting things finished and so the idea will be to keep this fairly simple for that purpose (some encouragement to keep at it from you guys would also come in very useful please!)
So, what am I using? Well when you absolutely, positively need to build a T-55 you can accept no subsitutes but Tamiya's excellent offering. I've heard nothing but good things about this kit and it's been sitting in my stash for a long time, so here we go:
As no build is ever as much fun as when you throw some aftermarket at it, I've leafed through the stash and dug out the following: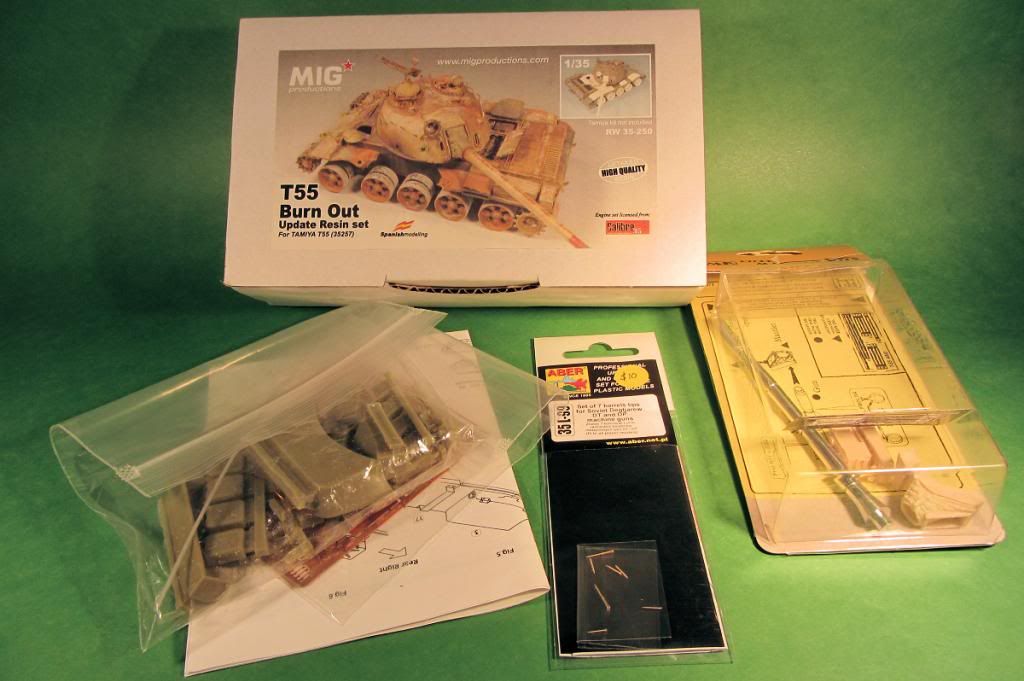 I've actually ammased a few T-55 bits over the years I've had this kit as basically I had no idea what to do with it. I finally settled on a destroyed lebanese Tiran but didn't want to destroy the lovely Tamiya kit and bought an old Trumpeter version on the cheap to use instead. However, I'll be dipping into a few parts from that (ditant)future build to help me here.
At the top is Mig's T-55 burn-out set. I got this on sale and it's a nice set. While most parts will not be used on this build I'll steal a few non-crucial bits to help my T-55 look more worn out.
At the bottom left is Verlinden's Tiran conversion for the Tamiya kit, 95% is not relevant but I may steal the interior parts for the commanders cupola and hatch as I intend to add some figs and leave the hatches open.
To its right are Abers turned brass 7.62mm barrels bought for another uncompleted project but one of the variants should work for the co-ax SGMT nicely.
Finally there is the CMK 100mm D-10TG Gun w/KTD-2 Rangefinder & Sleeve which I again got on sale ages ago and then realised was failry useless on its own as most T-55's went other exterior upgrades alongside this. However, I have found a pic of a KO T-55 in Syria that has this set-up and no sign of other additions, so I'm happy to forge ahead. Pretty much enforces the rule that with a T-55 almost any combination of fittings is possible.
I think that's enough to get started, as mentioned I appreciate any support from you guys in order to finally see a build through!
Cheers,
James