MIKE, I just want to revisit a product suggestion I made some months ago.
The idea of offering a fifth wheel assembly for a WWII US Army semi tractor. Small, easy to print with a small part count. This would be a popular item for folks like me doing a lot of truck/trailer conversions and files a mostly vacant market niche.
So far I have used two of these in 1/35th scale and could use at least two more. Up till now I have had to come up with alternate sources. One I converted off a toy truck and the other came from a Eastern European company "Custom Factory" and that one had molding problems and (IMHO) a lack of detail.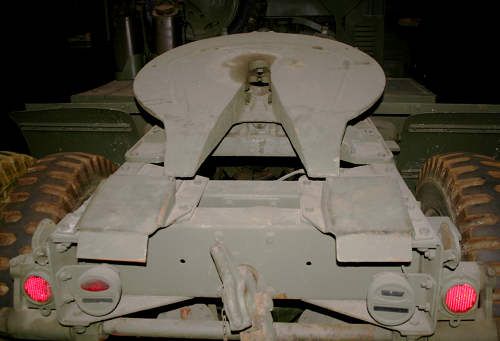 Fifth wheel from a WWII US Army Federal semi-tractor; Victory Museum, Auburn, IN
The base plate is as wide as the standard US truck frame width which is a measurement I can come up with, and the fifth "wheel" plate dish uses the same diameter as the width of the base plate. Most all 40's era fifth wheels were circular. Some modern ones are oval.
- Here is the one I made from a modified toy truck to convert a Deuce and a half into a Chevy tractor:
- Here is the Custom Factory unit that I feel is poorly detailed. It is installed here on my converted White 666 tractor. I had to modify plus add detail to this one and I feel it is still not as good as the toy truck unit. I would like to replace this one at some point in the future.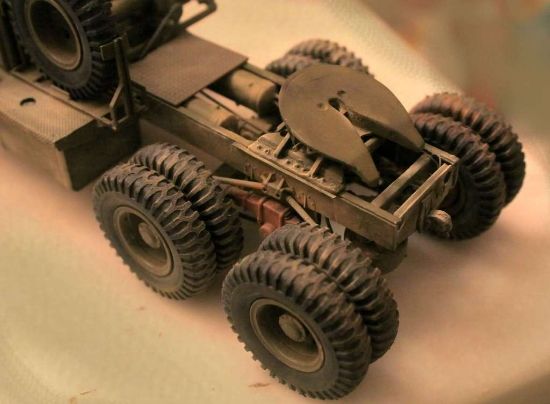 My next planned conversion would be the the Studebaker Deuce into a semi-tractor. This is an easy convert as it uses the standard 3-axle truck with no modifications and simply swaps the load box for the fifth wheel and adds an brake hose tower.
I could probably do some rough sketches of the assembly if that would help.