Introduction: Adapted from the olive-drab.com website: The Light Tactical Trailer, M1101/M1102 is a single axle, two wheel trailer designed to be towed by a HMMWV. The high ground clearance trailer consists of a cargo box mounted on the Light Tactical Trailer Chassis. The two types are:
-Trailer, Cargo: 2-Wheel, Light M1101
-Trailer, Cargo: 2-Wheel, Heavy M1102
The M1101 and M1102 trailers have the same tires, wheels, and track width as the High Mobility Multipurpose Wheeled Vehicle (HMMWV). The Light Tactical Trailer for general cargo is designated by two model numbers, the M1101 and M1102, depending on its loading by weight. That is, there is no physical difference between the M1101 and the M1102 models, other than the dataplate. The two model numbers are used to regulate the Gross Vehicle Weight (GVW), based solely on the vehicle towing the trailer. For example, when the GVW does not exceed 3,400 pounds (1542 kg) the M1101 cargo trailer can be towed by a HMMWV M998/M1038 series prime mover. Both the M1101 and the M1102 trailer models can be towed by a HMMWV M1097/M1114.
Review: This will be my first build review of a resin kit here. I will be presenting the review in a few installments over the next few weeks. This is a true multi-media kit with parts in resin and photo etched brass. The kit comes packaged in a sturdy, light weight corrugated, top opening box with the parts in small zipper bags. The silver box has a color photo of the assembled and painted kit. The kit comes packaged in five zipper bags. The larger, flat parts are even packed with sheets of light weight corrugated board to ensure they stay flat.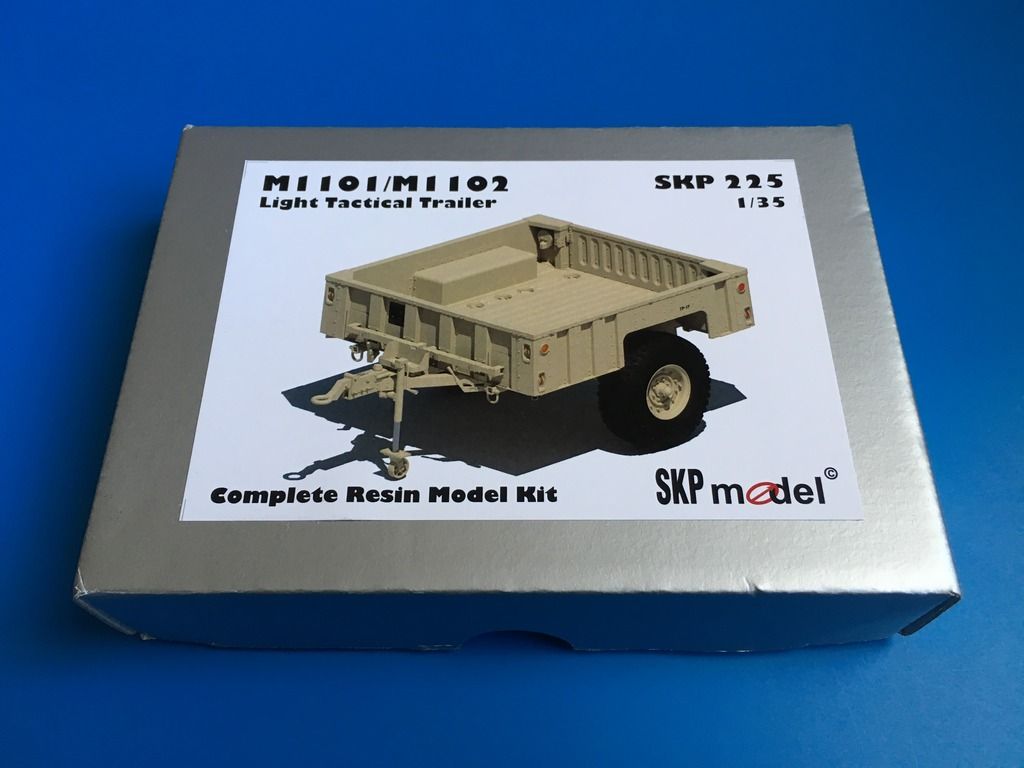 The instructions are the nicest I have ever seen in a resin kit, in any kit for that matter. They are reminiscent of those produced by Eduard. Assembly is shown in 12 steps on 8 pages. Resin and photo etched parts are shown in different colors for clarity. Resin parts to be added in each step are shown in slate blue, photo etch parts in gold, and existing resin parts in gray. The instructions actually show mating surfaces where glue is to be applied in pink, which is a great feature. There is a two sided sheet of paper with a NATO three color scheme on one side and desert tan on the other. Colors are only listed as NATO olive green, NATO brown, NATO black and US Army sand. Decal placement is shown on the color guide.